Regular price
R 649.00
Sale price
R 629.00
Unit price
per
Sale
Coming Soon Boet!
View full details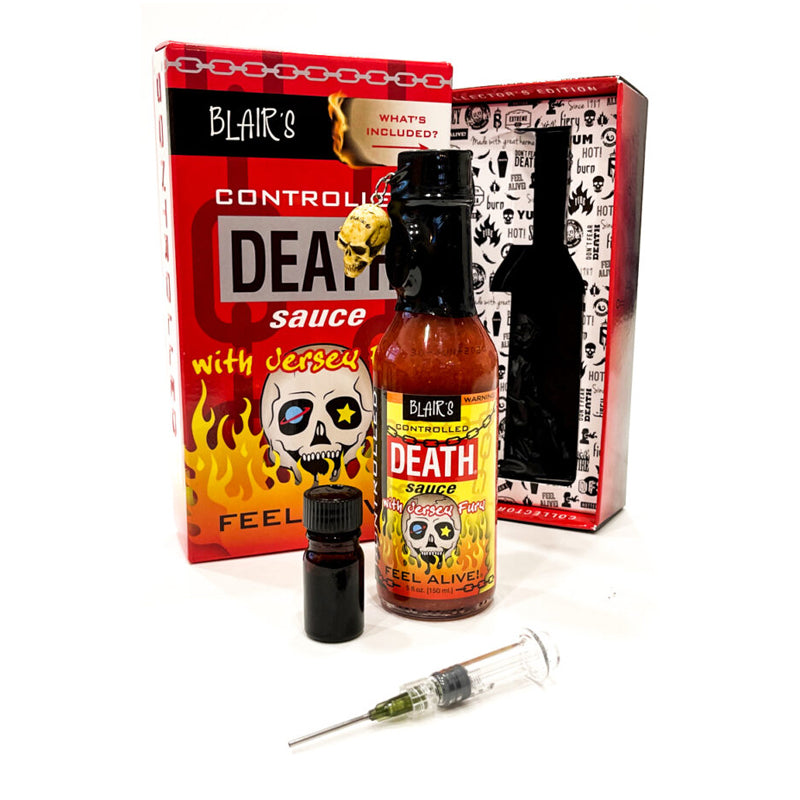 As a lifelong Chilihead who has served up over 110 million ChiliHeadz around the globe over the last 32 years…..I take Great Pride in Presenting my Latest and Greatest Creation to date…Controlled DeaTH. This hardcore Chilihead Fun Box is tailored to and created for the most experienced Scoville-slayers.
When I first started creating this intense all-inclusive kit, I could never have imagined it would turn into an absolute obsession over which I've literally spent more hours than I can count, happily immersing myself in. As horrific as C19 has been (including losing my own mom to it) If it wasn't for C19, Controlled Death wouldn't exist. I took much of that time to obsess on and perfect this most Unique Hot Sauce Kit…thinking about all my ChiliHeadz over the years who asked me "Hey B, can you make this not as Hot?" Or even better " Hey B, Can u make this Hotter" To you, I say Thanks, And Yep. "Now YOU can" cuz You Control it.
Your amazing New Skulled Kit contains a bottle of Controlled Death Sauce (if you add nothing it's still Effin Super Hot), a vial of highly refined Pure Capsaicin resin topping over 10.3 million Scoville Units of Fury, and a Borosilicate glass injector so that you can "Control your Death."
After 30 + years of inventing many of the Hottest products on Planet Earth, I've found the use of gloves can really be a game changer in protecting your hands and body. So I've got you covered this first time..just lift the box insert to find a pair of quality disposable Vinyl Nitrile Gloves.
There have been the most amazing energies, Luv, and Karma put into each one of these kits. Use with caution, enjoy with care, and consume with passion.
With ChiliHead Luv & Spice, Feel Alive – Blair
PS While I could keep on writing about all the obsessive details I've included in This insane kit, I'm leaving some for you to find Yourself. Please eat responsibly.
We'll get your order to your stoep faster than you can say 'lekker boet'!
Locally available stock

Goods are kept in stock at our Warehouse in Centurion or Takealot, for speedy delivery or collection.

Same Day Shipping

Orders placed before 10am on weekdays will be shipped from our Warehouse in Centurion on the same day.

R120 Flat Rate Delivery Fee

Flat Rate Shipping Fee of R120, from our door to yours. Orders over R999 get FREE shipping.

Door To Door Delivery

Your order will be delivered to your door by The Courier Guy, within 3 working days.